In this style, Miku still wears her hair in pigtails, she wears a neon pink headband with multi-colored glowing flower hair ties, with silver metallic headphones.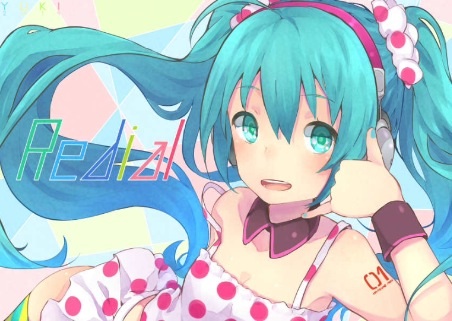 She wears a violet collar with neon pink lining. She also wears a white lace belly button shirt with purple strap. For accesories, she wears cuff bracelets that matches her collar. Her nails are painted blue, pink, white, yellow, and purple. Her skirt is white with a neon pink belt. And she wears purple knee socks with white polka dots. She wears white sneakers with pink glitter laces.
In a different style of Miku Redial she wears a pink polka dot head band with pink and white polka dot hair scrunchies, the same collar and cuffs, but a very short dress with pink and white polka dots all over it. She wears rainbow knee socks and white boots.