In this style of Hatsune Miku, her hair is made up in a high, straight-forward ponytail, fastened with a soft pink bow.

She wears salmon colored head phones with mint green bows on each. She also wears a soft pink hoodie, on the back is a hot pink bow, the hoodie design has a neon pink,teal,lime mix of plaid. In the left arm of the hoodie, there is a hot pink bow that is identical to the other in the back, yet bigger, and thicker. In the center of the jacket left side of the jacket, there are cyan blue, and salmon pink bows on the side along with a lime green pin saying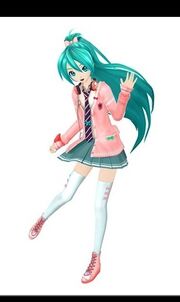 "02" stating which vocaloid group Miku is in. Underneath that, her pockets on each side have neon bows, on the left side, a wire in the pocket for her headphones. Underneath her hoodie, she wears a gray polo shirt, a navy blue tie with pink and white stripes with a cyan blue "M". Her skirt is a dull pleated teal skirt, she wears white knee socks with 3 pink bows on each side" she wears soft pink and salmon high-tops with bows in the front, salmon laces and the same plaid pattern on her shoes.