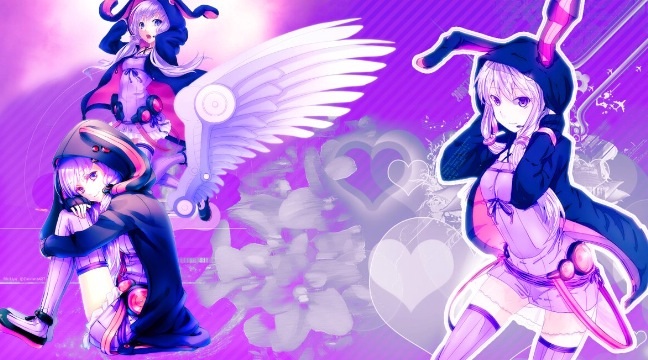 Bunnies and Bunnies! Oh sweet Bunnyz!!!! Today, we have a Pastel Easter Page! Be sure to read this on Easter!

Yuzuki Yukari has long Pastel Purple hair that she wears in low pigtails fastened with purple spheres. She has lavender eyes and Snow White pale skin.

As an Outfit, to know who she is, She has a black hoodie, she wears black arm warmers that has black bunny ears and and pink/purple inner lace. Eyes and facial pieces of a bunny. She wears a pastel purple lace romper, that has black criss cross strap on her chest. She wears a purple wire belt with a black bunny on the side. With a leg border, braided with lace. She wears purple knee socks with thin black lines in between. She wears black platform pumps with red jewels on the sides.